Rent or Buy Now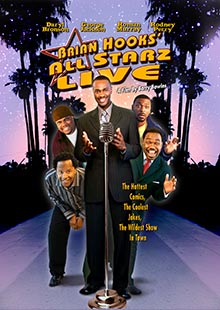 Brian Hooks All Starz Live
Own It April 05, 2005
Genre: Comedy
Runtime: 86 Minutes
UPC: DVD: MAV-5130, DVD: 824355513028
Storyline
"Brian Hooks All Starz Live" is the stand-up comedy event of the year. The film is hosted by the hilarious Brian Hooks star of the widely popular UPN show "Eve," (Soul Plane, 3 Strikes, Nothin 2 Lose). Along with being the host, Brian Hooks kicks off the show with a stand up set that is guaranteed to bring side splitting laughter. Hooks' ability to take classic topics such as infidelity and nursery rhymes and put a fresh unique spin on i, is ingenious!

The line-up includes four other comics that are bringing down the funny with a capital "F"! Check out the laughter brought on by the performances of Rodney Perry ("Johnson's Family Vacation," "Cedric the Entertainers Starting Line-Up" & "Malibooty"), Roman Murray (Comic View), Darryl Brunson (Chatroom & Comic Vie') and George Loving Jackson (The Luau).
| Directed By | Cast |
| --- | --- |
| Barry Bowles | Rodney Perry, Roman Murray, Darryl Brunson, George Loving Jackson, Hosted by Brian Hooks |
About the Crew
Brian Hooks is a Hit on Home Video, and now has even more mainstream popularity with his hit UPN show "Eve." You can't Miss with Brian Hooks
Also starred in the direct to home video hit, "Nothin 2 Lose," ChatRoom, "Phat Beach," Mailibooty and many more.
Gallery
Gallery Images are Coming Soon.