Rent or Buy Now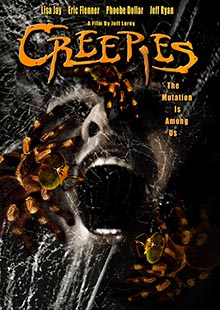 Creepies
Own It August 16, 2005
Genre: Horror
Runtime: 87 Minutes
UPC: DVD: MAV-5134, DVD: 824355513424
Storyline
Deadly spiders are accidentally unleashed from a top-secret military installation. Army specialists and Tanks are called in to exterminate the deadly predators, but the outbreak is worse than expected. Weapons of mass destruction have little or no effect on the venomous spiders. Civilians are strangled with spider webs and eaten alive. The Military in a desperate effort to eradicate the killer spiders, decide to demolish the entire city. Creepies features an all-star cast, including Vincent Bilancio (Sorority House Massacre), Carl Washington (KillJoy), Joe Haggerty (Zombie Chronicles), Garrett Clancy (Camp Blood 2), Jeff Ryan (Aquanoids) and a formidable army of giant killer spiders with astounding special effects.
| Directed By | Cast |
| --- | --- |
| Jeff Leroy | Lisa Jay, Eric Flenner, Phoebe Dollar, Jeff Ryan, and Ron Jeremy. |
Gallery
Gallery Images are Coming Soon.