Rent or Buy Now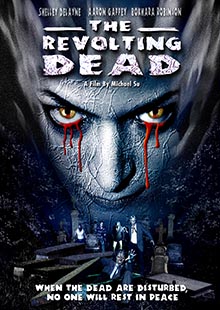 Revolting Dead, The (2 Pack with 13th Sign)
Own It September 13, 2005
Genre: Horror
Runtime: 87 Minutes
UPC: DVD: MAV-5154 (2 pack), DVD: 824355515428 (2 pack)
Storyline
In the rural desert town of Tehachapi Flats, the local funeral home, operated by the Crain family, offers all the usual funeral services required by the community: mortician, funeral and burial, as well as previously owned caskets and minor grave-robbing. When the family's extra-curricular activities disturb the grave of a powerful Druid priest, the late Jonathan Drue, his priestess sister uses the family powers to raise the dead and help those who have been disturbed to personally seek revenge. Enjoy this wonderful cast of characters in a wickedly funny and gruesome tale of life, death, love, and revenge; from beyond the grave.
| Directed By | Cast |
| --- | --- |
| Michael Su | Shelley Delayne, Aaron Gaffey, Bokhara Robinson, Michael Falls, Lindsey Lofaso, Benjamin Keepers, Ashley Novak, Nika |
About the Crew
Revolting Dead and 13th Sign special price $29.96 SRP for two movies.
Gallery
Gallery Images are Coming Soon.