Rent or Buy Now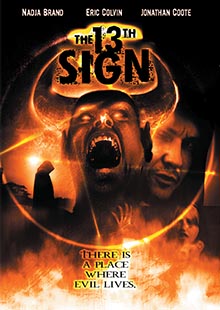 13th Sign, The (2-pack with Revolting Dead)
Own It September 13, 2005
Genre: Horror
Runtime: 85 Minutes
UPC: DVD: MAV-5154, DVD: 824355515428 (2 pack)
Storyline
Something evil lives in the dark corners of a small village and it's up to a mysterious young woman to destroy it. On her eight birthday, Lany's father went on a killing spree murdering fifteen people before turning the gun on himself. Still haunted by the memories of that terrible day, Lany must now return to confront the demons of her past. As these ancient evils grow more powerful, Lany realizes that she is the only one that can destroy them. All hell breaks loose as the young demon slayer confronts the whole village in a desperate battle for her soul. In the tradition of "The Evil Dead", The 13th Sign is the future of horror.
| Directed By | Cast |
| --- | --- |
| Erik Wilson | Nadja Brand, Eric Colvin, Jonathan Coote |
About the Crew
Revolting Dead and 13th Sign special price $29.96 SRP for two movies
Gallery
Gallery Images are Coming Soon.