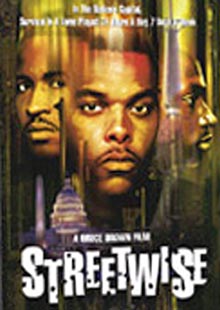 Streetwise
Own It March 11, 2003
Genre:
Runtime: Minutes
UPC: ,
Storyline
In the Nation\'s Capital, Survival is a Game Played 24 Hours A Day, 7 Days a Week. ...This is a story of a few momentous days in the life of a Washington D.C, family which is comprised of three young African-American brothers and their widowed mother. They struggle to live amidst the poverty, crime and violence that surrounds them 24 hours a day, 7 days a week. Donte\' and Eric are the two brothers in their twenties. Together they harbor dreams of the good life. Unfortunately, like so many others young people living in the community, they feel restricted by the severely limited economic opportunities available. So, against their mother\'s wishes, they become hustlers dealing crack cocaine. Donte\'s role model, and arch-enemy, is Raymond, the local kingpin and a ruthless killer. When Donte unveils a plan to take over Raymond\'s key drug markets, the result is a street war.
| Directed By | Cast |
| --- | --- |
| Bruce Brown | DJ Cool Big Tony Fisher Scorp |
About the Crew
Available on DVD Only. This movie was a smash hit on VHS in 1997 and never available on DVD until now.
Gallery
Gallery Images are Coming Soon.