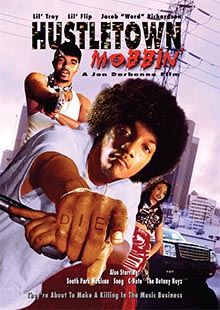 Hustletown Mobbin
Own It July 21, 2003
Genre: Action
Runtime: Minutes
UPC: DVD: MAV-5032, DVD: 824355503227
Storyline
Hustletown Mobbin\' tells the story of the notorious rap scene and how young rap stars find themselves struggling to make it. Rodney, also known as 24/7, is a talented newcomer to the rap game. His girlfriend Song sees the lies and betrayal around him and tries her best to warn Rodney of the spoils of success as he struggles to find himself and his music. Everything is on the line for Rodney, as his allegiance is torn between the violent world of two rival record companies run by criminals. Faced with losing his money, his music, his life, Rodney risks everything to make it to the top.
| Directed By | Cast |
| --- | --- |
| A Jon Darbonne Film | Lil\' Troy, Lil\' Flip, Jacob \"Word\" Richardson |
About the Crew
This film combines urban action with some of today\'s hottest rap stars, such as Lil\' Troy, Lil\' Flip, Song, C-Note, and The Botany Boyz
Gallery
Gallery Images are Coming Soon.