Rent or Buy Now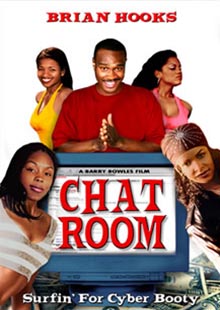 Chat Room
Own It July 02, 2002
Genre: Comedy
Runtime: Minutes
UPC: ,
Storyline
Three friends, Max, Drew and Jellyroll have a bet from high school with J-Ron, over who would have the finest date/fiancee/wife at their ten year reunion. The original bet was for $50, but Stanley invested it in an internet company, and the stake is now worth $50,000. The guys don't have girlfriends so they decide to get on the internet to find some "tight" women. The series of encounters and dates that follow are filled with comedy and hilarious situations. The girls they meet are not what they portrayed themselves to be online. In the end, at the reunion, J Ron seems to have won the bet, but his girlfriend's secret is soon to be revealed, and a re-count takes place. Who will be the real winner??
| Directed By | Cast |
| --- | --- |
| Barry Bowles | Brian Hooks, Darryl Brunson |
About the Crew
Brian Hooks, star of "Nothin 2 Lose" and "3 Strikes"
Gallery
Gallery Images are Coming Soon.