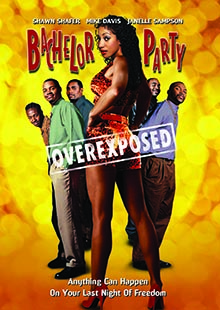 Bachelor Party Overexposed
Own It April 29, 2003
Genre: Comedy
Runtime: Minutes
UPC: DVD: MAV-5006, DVD: 824355500622
One Night Can Change Everything. Finally Ameere has proposed to his long time love Jacquelyne, and that day of marital bliss is fast approaching. Only two things stand in the way of Ameere marrying the woman that he truly loves. A wild bachelor party, and a deep seeded secret between the two of them.
Cast
Shawn Shafer, Mike Davis, Janelle Sampson
Director
A Gideon Piece
Selling Points
Phenomenal \"Underground\" Soundtrack, Film is in the tradition of \"She\'s Gotta Have It\" and \"Sweet Sweetback\'s Badass Song\"
Gallery
Gallery Images are Coming Soon.