Rent or Buy Now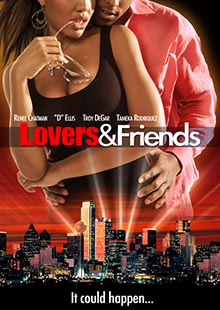 Lovers And Friends
Own It November 14, 2006
Genre: Comedy
Runtime: 73 Minutes
UPC: DVD: MAV-5189, DVD: 8-24355-51892-4
Three hot ladies take their bachelorette party to Sin City, and find out was happens in Las Vegas is all good! So good, that after one wild night, the bride-to-be wakes up the next morning married to her last fling before getting married' lover. To get the hasty marriage annulled, the couple take a trip to romantic Cancun, Mexico. Can divorce keep them apart or will fate bring the "divorcees" back together?
Cast
Renee Chatman, "D" Ellis, Troy Degar, Tameka Rodriquez
Director
Vince "Saint" Clark
Selling Points
A Sexy romantic comedy perfect for Date-Nite!
What happens in Vegas doesn't always stay in Vegas sometimes it takes you to Cancun
Gallery
Gallery Images are Coming Soon.