Rent or Buy Now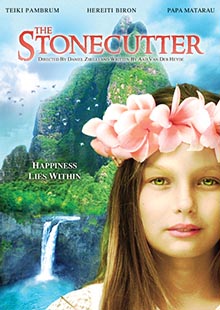 Stonecutter, The
Own It July 17, 2007
Genre: Inspirational/Family
Runtime: 80 Minutes
UPC: DVD: MAV-5204, DVD: 8-24355-52042-2
Storyline
The STONECUTTER is an inspirational Fairy Tale set in the beautiful tropical islands of French Polynesia with its shimmering turquoise waters, shady coconut palm fronds, and white sandy beaches. The whole family will enjoy this story about a poor island stonecutter who struggles to support his family. With the help of an angelic young girl, he learns to appreciate what is most valuable possession in life: not money or power -but the love of his family!
| Directed By | Cast |
| --- | --- |
| Daniel Zirilli | Tieki Pambrun, Hereiti Biron, Papa Matarau with special performance by FENUA |
About the Crew
• Received 3 out of 5 DOVE seals!
• The writer/executive producer Aad Van Der Heyde is a South Seas Painter.
• Black Pearls were traded for the all the 35mm film stock.
• Much of the nature footage was shot on Marlon Brando's private Atoll, Tetiaroa, which is home to French Polynesia's largest bird sanctuary.
Gallery
Gallery Images are Coming Soon.