Rent or Buy Now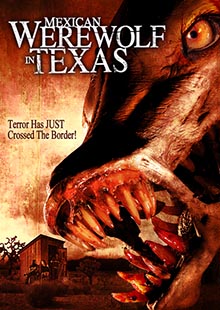 Mexican Werewolf In Texas
Own It January 09, 2007
Genre: Horror
Runtime: 88 Minutes
UPC: MAV-5215, 8-24355-52152-8
Storyline
With its only claim to fame being the "Goat Capitol of the World", the border town of Furlough, Texas is sucking its younger residents dry.
Despite the towns' racial tensions between the White and the Mexican residents, Anna and her bored high school friends band together, and plot their escape from the suffocating little town. Until, a savage attacker preys on the inhabitants, - first the goats, then the humans. The local, half-witted cops think it's a coyote, but Anna and her friends believe the murders are the signature killings of the legendary Latin American urban myth - "El Chupacabra" or Mexican werewolf!
The Chupacabra attacks animals with their sharp fangs, and sucks all their blood at its leisure. But, why has the Chupacabra suddenly developed a taste for human blood?!
While the bigoted town elders hope the attacks scare the "Mexies" into leaving Furlough, Anna's father takes advantage of the crisis by cooking up a wacky plot to breakup her relationship with Miguel. The teenagers, however, see it as an opportunity to ride "fame and fortune" far out of town! So, they contact an "alien hunter" to help trap the blood-sucking creature.
No matter the towns' antics, El Chupacabra MUST feed!
| Directed By | Cast |
| --- | --- |
| Scott Maginnis | Erika Fay, Gabriel Gutierrez, Martine Hughes, Sara Erikson, Michael Carreo, Mark Halvorson and Louie Cruz Beltran |
About the Crew
• Killer Key Art Campaign
• Based on the Legend of the El Chupacabra
• Four Category Awards Winner at the 2006 Festival of Science Fiction, Fantasy, Horror and the Supernatural –Las Vegas:
-Best Picture
-Best Monster/Make-up Effects
-Best Screen Story
-Best Supporting actress: Sara Erickson.
• Official Selection-2005 Shriekfest Film Festival –Los Angeles
• A Heart pounding Horror with plenty of GORE!
Gallery
Gallery Images are Coming Soon.