Rent or Buy Now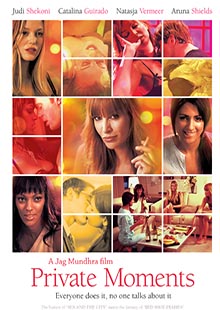 Private Moments
Own It January 23, 2007
Genre: Erotic
Runtime: 85 Minutes
UPC: MAV-5214, 8-24355-52142-9
Storyline
Satisfying adult entertainment from hot Erotica director Jag Mundhra (Sexual Malice, Tropical Heat, Tales of Kama Sutra, Wild Cactus). Starring Judi Shikoni, Catalina Guirado, Natasja Vermeer (Emmanuelle Tango), Aruna Shields, Jason Connery (son of Sean Connery), Luke Goss.
A birthday party, stimulated by several bottles of wine, ignites a lengthy night of sinful confessions by four funny and sexy ladies. From spicy phone sex in a public phone booth to a scandalous rendezvous on a crowded subway train, these ladies share their most private sexual adventures.
Serena, a late-night radio talk show host, is inspired by their titillating conversations. She takes to the air with a new format and a new show dubbed "Private Moments, Public Places". Serena, and her mounting number of listeners, soon discovers there are as many raunchy stories in the city after dark, as there are women who want to tell them.
| Directed By | Cast |
| --- | --- |
| Jag Mundhra | Judi Shikoni, Catalina Guirado, Natasja Vermeer, Aruna Shields, Jason Connery, Luke Goss |
About the Crew
Super Sexy Females Discuss and play out their inner fantasies.
Delicious Erotic Tales that will leave you begging for more!
Good Quality Film; with Spanish Sub-titles
Home Video Line Directed Towards the Adult Consumers
Gallery
Gallery Images are Coming Soon.