Rent or Buy Now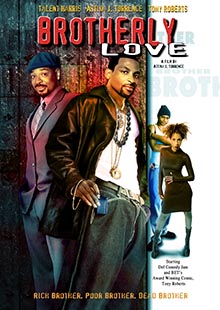 Brotherly Love
Own It September 02, 2003
Genre: Action
Runtime: 85 Minutes
UPC: DVD: MAV-5040, DVD: 824355504026
Storyline
Brotherly Love is a movie about two brothers from Brooklyn Travis Parker (Attika Torrence) and Bryant Parker (Talent Harris). One is a successful businessman and the other is a not so successful street hustler. As with most odd couples, one is always getting into trouble, and the other is always there to bail him out. But when a hustle on a local street hustler names Tank (Tony Roberts), all hell breaks loose. It\'s up to Travis and Bryant to work together to solve their latest dilemma and in the process they gain a respect for each other\'s life. With the help of several very talented comedians, \"Brotherly Love\" guarantees non stop action, and the laughs to go along with it.
| Directed By | Cast |
| --- | --- |
| An Attika J. Torrence Film | Talent Harris, Attika J. Torrence, Tony Roberts |
About the Crew
Brotherly Love mixes great Urban action and comedy, featuring high profile comedian Tony Roberts, known as the Michael Jordan of comedy. Also appeared on Russell Simmons HBO\'s Def Comedy Jam and BET\'s Comic View. Tony was awarded the Robin Harris Award for Most Original Comic by BET.
Gallery
Gallery Images are Coming Soon.