Rent or Buy Now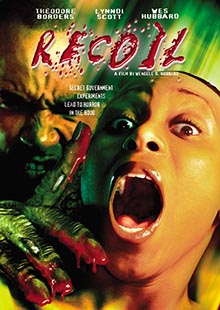 Recoil
Own It November 18, 2003
Genre: Thriller
Runtime: 81 Minutes
UPC: DVD: MAV-5038, DVD: 824355503821
Eric \"E-Man\" Sanders is a young high school student that has a dark past that he hasn\'t confronted since his childhood. Eric receives a school assignment from his substitute teacher, who is not at all what he seems. He, along with his friend Webster \"Double-U\" is unaware of the danger that lies before them. It is an assignment that he soon won\'t forget as it takes him on a journey of horror and death.
Cast
Starring Theodore Borders, Lynndi Scott, Wes Hubbard, Terrence PN Smith
Director
A Wendall D. Hubbard Film
Selling Points
Recoil marks the directorial debut of Wendall D. Hubbard. This also marks the debut filmmakers of the twins Wendell and Wesley Hubbard.
Gallery
Gallery Images are Coming Soon.