Rent or Buy Now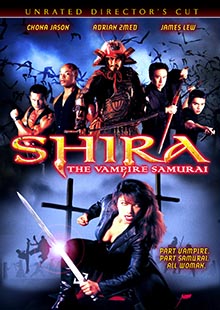 Shira: The Vampire Samurai
Own It December 04, 2007
Genre: Action
Runtime: 86 Minutes
UPC: MAV-5221, 8-24355-52212-9
Storyline
Shira is a half-human, half-vampire woman warrior skilled in the deadly ways of the Samurai. She has been prophesied to breed a future nation of "day walking" vampires and Kristof, a fiendish vampire, will stop at nothing to capture her. Shira, and her band of fellow vampire hunters, must defeat Kristof and his army of blood-suckers to prevent him from starting a new race destined to conquer the human world.
| Directed By | Cast |
| --- | --- |
| Simon and Jeff Centauri | Chona Jason, James Lew, Adrian Zmed, Lawrence Dwonch, Joe Mercado, Edwin Villa, Louis Klein, Chyna McCoy |
About the Crew
•Part Vampire, Part Samurai, All Woman. Meet SHIRA, the female version of "Blade."!
• SHIRA is the next "Kung Fu" Classic!
▪ This film has a real game feel to it, satisfying a young demographic.
• UNRATED
Gallery
Gallery Images are Coming Soon.