Rent or Buy Now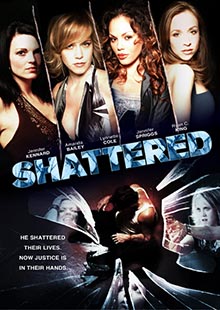 Shattered
Own It March 09, 2010
Genre: Thriller
Runtime: 91 Minutes
UPC: MAV-5338, 8-24355-53382-8
When four lifelong friends decided to open the hottest new bar in town, they never thought the night of their lives would turn into their worst nightmare. But when one of their own is brutally attacked and manages to trap her assailant inside the bar, their friendship is tested like never before. Lives will be torn apart and bonds will be broken as they decide whether to trust justice to take its course…or take justice into their own hands.
Cast
Amanda Bailey, Lynnette Cole, Jennifer Spriggs, Jennifer Kennard, Ryan C. King, Chris Cavolo, Spencer Moore
Director
Chris St. Croix
Selling Points
Lynnette Cole-Former Miss USA, guest star on Hollywood Squares. Wikipedia page: http://en.wikipedia.org/wiki/Lynnette_Cole
Amanda Bailey- Led to Believe, Rush Night

Gallery

Gallery Images are Coming Soon.