Rent or Buy Now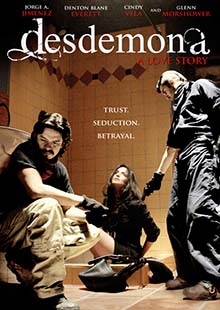 Desdemona: A Love Story
Own It August 31, 2010
Genre: Thriller
Runtime: 89 Minutes
UPC: MAV-5355, 8-24355-53552-5
Desperate for money, Gil & Rod scheme to kidnap a wealthy man's wife and hold her for ransom. In a twist of fate the captive woman turns out to be Gil's childhood love. As the misguided brothers proceed with their ill-fated plan love, betrayal, and racism collide with unpredictable and tragic results.
Cast
Jorge A. Jimenez, Denton Blane Everett, Cindy Vela, Glenn Morshower
Director
Phillip Guzman
Selling Points
Based on Desdemona's character in Shakespeare's "Othello."
`SellingPoints`
Boston Film Festival 2009 – Best Feature Film, Best cinematography, best actor
Naples International Film Festival 2009 – best feature film
The Accolade Competition – Feature Film, Lead Actor

Glenn Morshower – best known as Agent Aaron Pierce on "24." Guest-starred on "Friday Night Lights," "King of the Hill," "Charmed," "CSI: Crime Scene Investigation," "The West Wing," "Alias," and Star Trek: Enterprise.
Brad Maule – best known as Dr. Tony Jones on "General Hospital." Starred on "Three's Company," "The White Shadow," "Too Close for Comfort," and Charlie's Angels.
Starring hot up-and-coming actors Jorge A. Jimenez (The Lawless, Clemente) and Denton Blane Everett (The Lawless, Madbad)
Cindy Vela – model and musician (www.cindyvela.com)

Gallery

Gallery Images are Coming Soon.