Rent or Buy Now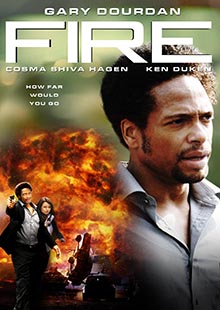 Fire
Own It October 05, 2010
Genre: Action
Runtime: 90 Minutes
UPC: MAV-5351, 8-24355-53512-9
Storyline
The only thing standing between Phil and his wife's perfect happiness is a loan they need for their first home; at least, that's what they thought. Without warning their bank is ambushed by belligerent thugs and Phil quickly becomes a pawn in the hands of the criminals. The lives of thousands of innocent people, including his wife's, hang in the balance and Phil is the only man who can save them.
| Directed By | Cast |
| --- | --- |
| Raoul W. Heimrich | Gary Dourdan, Florentine Lahme, Ralph Herforth, Numan Acar |
About the Crew
Gary Dourdan

Warrick Brown on the television series "CSI: Crime Scene Investigation."
TV Guide voted him the Sexiest CSI actor on TV in its 2008 "Sexiest" issue.
Starred in Perfect Stranger, "The Office," "A Different World," Batman: Gotham Knight, "Soul Food"
Winner of NAACP Image Award for Outstanding Supporting Actor in a Drama Series for his role on "CSI: Crime Scene Investigation." (2003 & 2006)

Cosma Shiva Hagen

Speed Racer, Cover of Playboy (Germany)
http://www.mademan.com/chickipedia/cosma-shiva-hagen/
http://www.blockbuster.com/browse/catalog/personDetails/234195
http://www.youtube.com/embed/G9us-TlWAO4

Ken Duken

Inglourious Basterds, Starred alongside Brooke Shields in Chalet Girl, "Another League", "Hidden Children", "Kiss and Run"
Florentine Lahme - "Defying Gravity," featured in Maxim Magazine
Ralph Herforth - Speed Racer
"A Great Movie" - Quentin Tarantino
Gallery
Gallery Images are Coming Soon.