Rent or Buy Now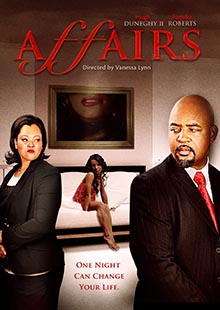 Affairs
Own It February 12, 2013
Genre: Thriller
Runtime: 115 Minutes
UPC: MAV-5398, 824355539820
Small town Mayor, George Taylor, is in a heated re-election campaign. In the midst of political controversy, a failing marriage, and a rumored affair, someone is murdered.
Cast
Hugh Duneghy II, Famika Roberts
Director
Vanessa Lynn
Selling Points
From the Producer, Writer, and Director that brought you the hit stage play "Unequally Yoked".
Another hit stage play by Vanessa Lynn.
Gallery