Rent or Buy Now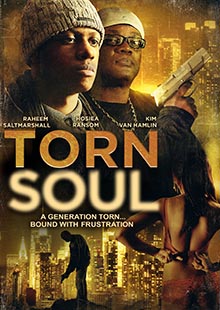 Torn Soul
Own It July 22, 2014
Genre: Drama
Runtime: 85 Minutes
UPC: MAV-5457, 824355545722
Meshach Johnson is forced to find his identity while wandering the perilous streets of a decaying city. TORN between the dead end life and the abundant life God has promised him, Johnson's endless struggle to find his "true self" takes him on a path that threatens to bring about his demise.
Cast
Raheem Saltmarshall, Kim Van Hamlin, Hosiea Ransom
Director
Danzell Calhoun
Selling Points
A relate-able film for those who have found it hard to identify themselves.
Danzell Calhoun's Directorial Debut visually tells the story of growing up on the mean streets in Flint, Michigan.
Gallery