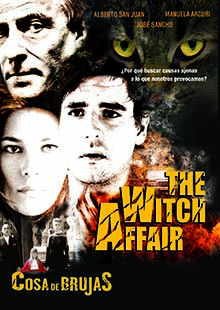 Witch Affair, The (Cosa de Brujas)
Own It August 10, 2004
Genre: Thriller
Runtime: 100 Minutes
UPC: ,
Storyline
On Midsummer's Eve in 1980, Miguel Gironza sets off a remote control detonator and blows up the car of Aristegui, his partner. Remedio and Nemesio two strange old women have witnessed the murder. The next day, together with a young girl, they appear at Aristegui's funeral. Gironza is completely taken aback when they tell him that from that day on all his dreams will come true. But in exchange for what? He will find out when he sees a black cat with a full moon on its forehead.
| Directed By | Cast |
| --- | --- |
| José Miguel Juárez | José Sancho, Manuela Arcuri, Antonio Hortelano, Alberto San Juan, Manuel Manquiña, Pilar Bardem, Jorge Sanz |
About the Crew
Mystery ingredient is uncommon among Spanish titles; Alberto San Juan and Jorge Sanz are key actors from Spain.
Gallery
Gallery Images are Coming Soon.