Rent or Buy Now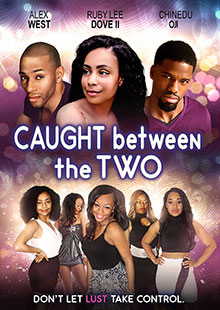 Caught Between the Two
Own It March 28, 2017
Genre: Urban Romantic Thriller
Runtime: 72 Minutes
UPC: 824355552720, MAV-5527
A very successful black woman named Taliyah finds out that she is in control of everything in her life except one thing. Just when Taliyah thinks her life is in the perfect place she happens to get an unexpected surprise that could cause lust to take control. With the help of two best friends, Taliyah's search of fulfillment comes to terms in a dangerous love triangle.
Cast
Chinedu Oji, Faith Simmons, Alex West, Ruby Dovell. Jaye Alexander
Director
LaQuan Stallworth, Frank Boni, Glenell Randolph, Gianni Marquiz
Selling Points
Jaye Alexander is an actress and cinematographer, known for Caught Between the Two (2016), Isle of Doom (2015) and Pseudoie (2014).
Chinedu Oji is known for his work on Caught Between the Two (2016), Bricks (2016) and A Curry on an American Plate (2017).
Ruby Lee Dove II is an actress and producer, known for Soft Matter (2016), The Leftovers (2014) and Blood and Water (2016).
Alex West is an actor and producer, known for Blood and Water (2016), Angela and The Perfect Wife (2017).
Gallery