Rent or Buy Now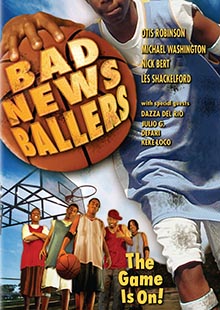 Bad News Ballers
Own It November 15, 2005
Genre: Comedy
Runtime: 85 Minutes
UPC: DVD: MAV-5078, DVD: 824355507829
Storyline
A family comedy about a middle school basketball team's struggle to find a replacement coach after their head coach, Charles Monroe, is sidelined for the season with gastro-intestinal disorder. After some unsuccessful replacements and a losing streak, the Ballers decide to run their own team causing chaos. But with the season in jeopardy, Coach Charles gets the doctor's permission to get his health and team back into shape in time for a post-season tournament.
Directed By
Brian Shackelford
Cast
Otis Robinson, Michael Washington, Nick Bert and Michael Johnson. Guest Stars Dazza Del Rio, Julio G, Defari, Keke Loco and Jayo Felony
About the Crew
Urban Comedies are a Hot on Home Video, With the Success of Bad News Bears, Bad News Ballers appeals to the city street kids, speaking their language, Street basketball
Gallery
Gallery Images are Coming Soon.