Rent or Buy Now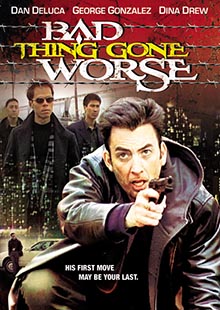 Bad Thing Gone Worse
Own It May 16, 2006
Genre: Action
Runtime: 87 Minutes
UPC: DVD: MAV-5105, DVD: 824355510522
Storyline
After the murder of his girlfriend in Miami, Marcus West returns home to New York City to get back on his feet. He is determined to make the phony securities scam he's mixed up in his last con. One mess leads to another until Marcus realizes everyone he knows and trusts is taking him for a ride. His ex-girlfriend turns on him, his best friend betrays him, the FBI frames him and his mob boss no longer trusts him. His journey home has left a bad taste in his mouth. Now it's time to trust no one and fight back.
Directed By
Daniel Buonsanto
Cast
George Gonzalez, Dina Drew, Flavio Romeo, Clare Stevenson
About the Crew
Action flick
Gallery
Gallery Images are Coming Soon.