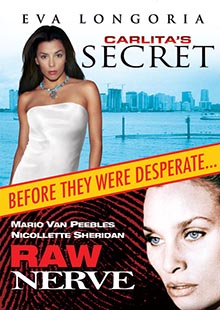 Before They Were Desperate
Own It August 22, 2006
Genre: Thriller
Runtime: 191 Minutes
UPC: MAV-5201, 8-24355-52012-5
Storyline
"Carlita's Secret" is a hot and sexy thriller about a young innocent girl named Carlita who dreams of becoming a Broadway dancer in New York, but finds her dreams shattered due to a deadly past.
One night, at a Miami nightclub sheis caught in the middle of a gunfight and is blamed for a murder she didn't commit. When running from the police, she changes her name and identity until she is able to prove her innocence without getting killed in the process.
RAW NERVE
Pursued by both the police and a violent drug lord, Blair, a decorated yet shady cop (Mario Van Peebles) falls further into a paranoid state. His stunningly gorgeous and enigmatic girlfriend, Izabel (Nicollette Sheridan) and long-time friend and criminal law professor, Ethan find they must defend themselves against the rogue lawman's accusations of betrayal, despite the fact they have both been helping to cover up his misdeeds. Will Izabel and Ethan survive Blair's descent into psychosis? Will Blair elude the police and the drug lord before he gets killed? The explosive climax will leave you breathless.
Directed By
Carlita's Secret: George Cotayo Raw Nerve: Avi Nesher
Cast
Carlita's Secret: Eva Longoria, Maria Bravo, Alejandra Gutierrez, David Martinez, Steve Roth, Andy Sottilare and Alain MoraRaw Nerve: Mario Van Peebles, Nicollette Sheridan, also starring Zach Galligan, Cheryl James
About the Crew
• Promoted as companion set to Disney's Desperate Housewives Season 2, release: "Before They Were Desperate"
• Media Release to trades to repromote product, internet campaign
• Perfect piece to add to shelves increase sales for the hottest show on television: ABC's Desperate Housewives
• Check out the early films of hot and sexy Eva Longoria and Nicolette Sheridan
Gallery
Gallery Images are Coming Soon.