Rent or Buy Now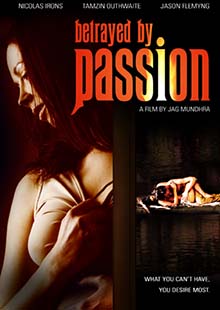 Betrayed by Passion
Own It October 19, 2010
Genre: Erotic
Runtime: 86 Minutes
UPC: MAV-5364, 8-24355-53642-3
Storyline
An escape to India's serene rain forest goes fatally wrong after Lilly, a paralyzed soap-opera star, turns up dead. In an attempt to find the killer, secrets of betrayal and a sexual rendezvous with an attractive native girl point all suspicions towards her husband, Andy. His only savior could be an alibi from his young lover, but fearful of her own husband's wrath, she is unwilling to tell the truth. For Andy, his destiny was sealed the night he ventured into the mysterious backwaters.
Cast
Nicholas Irons, Tamzin Outhwaite, Jason Flemyng, Sandra Teles, Gulshan, Grover
About the Crew
Jason Flemyng - Kick-Ass, Clash of the Titans, The Curious Case of Benjamin Button, Transporter 2, The League of Extraordinary Gentlemen, Spice World, Clueless
Nicholas Irons - "Berkeley Square"
Tamzin Outhwaite - BBC soap opera "EastEnders", The Fixer, Red Cap, Hotel Babylon, 7 Seconds, featured in Vogue (UK)
Sandra Teles - Hannah Montana: Spotlight World Tour
Gallery
Gallery Images are Coming Soon.