Rent or Buy Now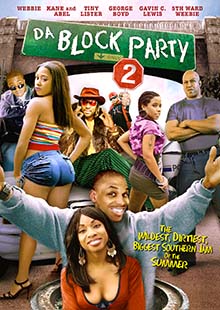 Da Block Party 2
Own It February 20, 2007
Genre: Comedy
Runtime: 90 Minutes
UPC: MAV-5149, 8-24355-51492-6
Storyline
CJ carries on his family tradition by putting together the biggest jam of the summer. Things seem to be going great, until he is confronted by the hilarious antics of a crooked cop named "Blue Eyes" and his older brother's baby -mamma, Kanisha. Can this year's block party top the last?
Directed By
Francis G. Pinnock
Cast
Webbie, Kane and Abel, Tiny Lister, George Boyd, Gavin C. Lewis, 5th Ward Weebie
About the Crew
• The Sequel to the Smash Comedy DVD Hit, "Da Block Party"
• Featuring Comedic Veteran Tiny Lister, with well known Rap Artists Webbie and 5th Ward Weebie.
Gallery
Gallery Images are Coming Soon.