Rent or Buy Now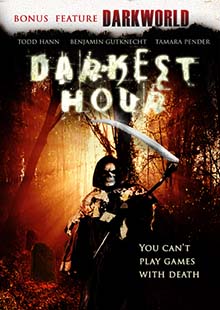 Darkest Hour
Own It May 20, 2008
Genre: Horror
Runtime: 96 Minutes
UPC: MAV-5291, 824355529128
Storyline
Years ago, a sleepy town was terrorized by the North Bend Reaper. Despite a massive manhunt, the Reaper was never found. Now a group of actors are trying to cash in on the town's notorious killings by hosting a murder mystery party, but in the mist of the fun and games they come to realize someone is killing them off, one by one. Has the Reaper come back for one last dance with death?
Cast
Todd Hann, Benjamin Gutknecht, Tamara Pender
About the Crew
'. . . a cross between FRIDAY THE 13th, HALLOWEEN and SCREAM- filled with some hot chicks, splattering blood and just enough screams for a good time'. (Ammon Gilbert).
Special Bonus Feature Darkworld.
Gallery
Gallery Images are Coming Soon.