Rent or Buy Now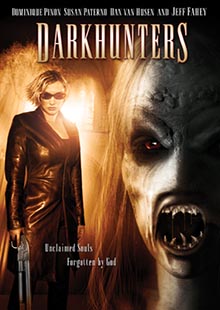 DarkHunters
Own It September 07, 2004
Genre: Horror
Runtime: 83 Minutes
UPC: DVD: MAV-5093, DVD: 824355509328
Storyline
They say the only thing you can depend upon in life is death. Charles Jackson is about to find out that isn't true. Dying is a tricky process and mistakes get made.

A morning apparently like all the others...Charles wakes up. But, nobody seems to see him, not even his own wife...Charles is dead but his spirit still roams on Earth. What is a ghost but a mistake of death, an unclaimed soul forgotten by God? Now his only hope to get to heaven is the mysterious Carol Miller, a Dark Hunter, whose job it is to return those souls to death before others find them, for a soul is a valuable commodity and there are those who do not serve God but a darker master, who would eagerly exploit this. Charles's mission is to save the roaming spirits from the evil forces. A battle between Good and Evil begins...

Darkhunters creates a world of demons and angels that will take you beyond your imagination.
Directed By
Johannes Roberts
Cast
Dominique Pinon, Susan Paterno, Jeff Fahey, Dan Van Husen, Azucena Druan, Tina Barnes and Harold Gasnier
About the Crew
Pray for a quick death. The film swings from graphic violence to comic adventure without losing a beat. The quality of the production is above the standard of the genre, and the special effects and photography is fantastic.
Gallery
Gallery Images are Coming Soon.