Rent or Buy Now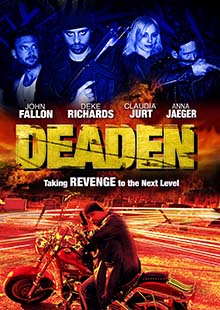 Deaden
Own It April 15, 2008
Genre: Action
Runtime: 78 Minutes
UPC: MAV-5249, 824355524925
Storyline
After witnessing the brutal murder of his pregnant wife, Rane (John Fallon), sets out on a drug fueled rampage for revenge against the brotherhood who betrayed him. Aided by every weapon available and his old crime buddy, Rane will stop at nothing to get his retribution!
Directed By
Christian Viel
Cast
John Fallon, Deke Richards, Claudia Jurt, Anna Jaeger
About the Crew
Director Christian Viel also directed Recon 2020
John Fallon (Saw II)
Kevin Kelsall (Recon 2020)
Howard Rosenstein (An American Haunting, Recon 2020)
Deaden screened at the Sitges International Film Festival in Sitges, Spain
'The film is not only RAW and BRUTAL - it's unforgiving - a nice change of pace from the cookie cutter action films as of late.''Being a fan of horror - and even more so a fan of gore I was shocked when I saw myself turning away from a couple of scenes in DEADEN. I thought I was sick but I can't hold a candle to the opening scene in this film!' (Writer/Director Darren Bousman (SAW II - SAW III))
Gallery
Gallery Images are Coming Soon.