Rent or Buy Now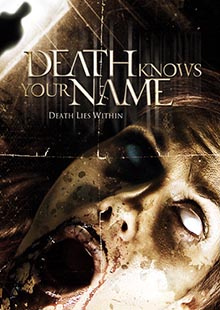 Death Knows Your Name
Own It June 12, 2007
Genre: Horror
Runtime: 82 Minutes
UPC: MAV-5202, 824355520224
Storyline
Handsome Dr. Bruce Taylor is a psychiatrist who works in an insane asylum with a buried past - literally an old, abandoned hospital wing. The doctor begins to share the tormenting nightmares of one of his patients. After one such nightmare, he finds the tunnels leading to the long-hidden hospital wing. When he unearths a human skull during his discovery, he also unleashes an evil curse in the form of a lethal and bloody infectious disease throughout the asylum. Despite the mysterious infections' attacks on the hospital staff, he enlists the help of his scientist father and a forensic anthropologist to reconstruct the skulls' facial features. The reconstructed skull reveals Bruce's own face - and more hidden secrets.
Directed By
Daniel de la Vega
Cast
Rodrigo Aragon, Kevon Schiele, Hugo Halbrich, Mimi Rivera, Veronica Mari, Patrica Gomez
About the Crew
• A scary as hell horror movie that will make you jump out of your chair!
Gallery
Gallery Images are Coming Soon.