Rent or Buy Now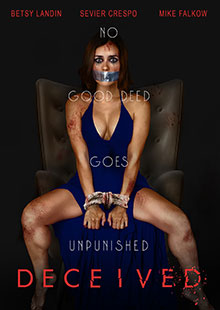 Deceived
Own It September 18, 2018
Genre: Thriller
Runtime: 92 Minutes
UPC: , 824355555820
Storyline
Alejandro returns to his home in Puerto Rico to help his sister Magdalena get her life together, only to find out from an old acquaintance that Magdalena has gone missing. Led to a bar in old San Juan, he discovers that not only was Magdalena working as an exotic dancer. Here Alejandro tries to piece together the events that led to her disappearance and starts to realize that not everything is as it seems.
Produced By
Sevier Crespo, Mike Falkow, Kristine Kreska, David Paladino
Directed By
Carlos Jimenez Flores
Cast
Betsy Landin, Sevier Crespo, David Paladino, Mike Falkow, Robert Ricucci, Millie Ruperto
About the Crew
Actor and producer Sevier Crespo has been featured in a variety of films, TV shows and commercials including NYPD Blue, Switched at Birth, and the TV Guide Hot List, award-winning web series, The Stafford Project. Sevier also produced the show, which stars two-time Emmy winner Michelle Stafford.
Betsy Landin is an actress known for Dolphin Tale (2011), Dolphin Tale 2 (2014), Affairs of State (2018).
Mike Falkow is an actor known for The House Bunny (2008), A Christmas Proposal (2008), NCIS (2016).
David Paladino is an actor and producer, known for NCIS (2003), Call of Duty: Black Ops III (2015) and NCIS: Los Angeles (2009).
Gallery