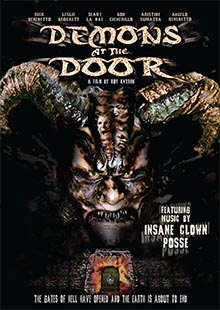 Demons At The Door
Own It December 07, 2004
Genre: Horror
Runtime: 85 Minutes
UPC: DVD: MAV-5106, DVD: 824355510621
Storyline
Featuring Music By INSANE CLOWN POSSE

Satan has declared war on mankind. The battle lines are drawn and the final battle for the survival of mankind depends on the courage and the faith of five troubled humans who each have their own terrible secrets to deal with while trying to survive against the hordes of Hell.

Events are about to be set into motion, which could announce the arrival of Armageddon. The end of all existence is at hand and The Demons are at the Door!
| Directed By | Cast |
| --- | --- |
| Roy Knyrim | Rick Benedetto, Leslie Brockett, Sean'e La'Dae, Bobo Cicherillo, Aristide Sumatra, and Tish Knyrim as Satan. |
About the Crew
Featuring music by INSANE CLOWN POSSE, the hot rap/rock band, music throughout the film.
Demons At The Door combines state of the art make-up special effects and computer graphics By SOTA FX and SOTA Digital (Gods & Monsters, The Crow, Swordfish, and The Tuxedo).
Written and produced by Patrick Tantalo, a 25 year veteran of special effects (Ace Ventura Pet Detective, The Haunted).
Gallery
Gallery Images are Coming Soon.