Rent or Buy Now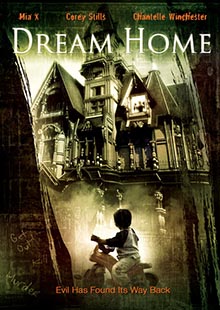 Dream Home
Own It June 06, 2006
Genre: Horror
Runtime: 85 Minutes
UPC: DVD: MAV-5119, DVD: 824355511925
Storyline
Dream Home is the story of the Cromiers, young married migrant workers who discover they have just moved into the wrong town and the wrong house. After falling in love with an old fanciful antebellum home in the backwoods of Louisiana, they quickly find out that they aren't the only ones 'living' there. This 'Dream Home' is full of disturbing and unnatural incidents, proving Evil has found its way back home.
Cast
Mia X, Corey Stills, Chantelle Winchester
About the Crew
Top Rated H continues to excel!
Gallery
Gallery Images are Coming Soon.