Rent or Buy Now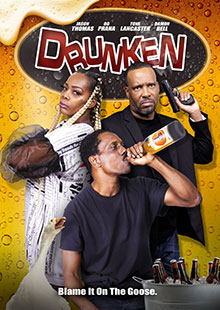 Drunken
Own It August 10, 2021
Genre: Comedy
Runtime: 72 Minutes
UPC: 824355570526, MAV-5705
Storyline
Jobless 40-year-old Reggie, struggles to maintain his alcoholism while he navigates the challenges of family, life, and his frequent encounters with the porcelain god. As he tries to get back on top will he prevail or will he always be "DrunK'en"!
Produced By
T. Walker and Brian Smallwood
Cast
Jason Thomas, OG Prana, Tone Lancaster, Damon Bell
About the Crew
Director T.Walker has been doing comedy shorts and skits for over 15 years. Some of his work has been viewed on MTV 3, TV One, and ABC Family. He is known for his shorts like "The Adventures of Fatman and Corkey" and the YouTube hit Fatman Breakdancing. Drunken is his feature film directorial debut.
Jason Thomas makes his feature film debut in the movie Drunken and has worked on shorts such as "The Adventures of Fatman and Corkey" and served as an extra on House of Cards.
Gallery