Rent or Buy Now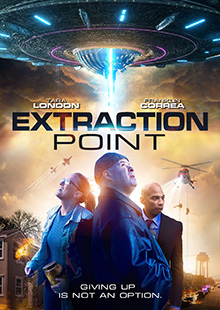 Extraction Point
Own It June 29, 2021
Genre: Action, Sci Fi
Runtime: 72 Minutes
UPC: MAV-5724, 824355572421
Storyline
When a UFO is taken down by the government making it crash, Nemon, is held captive in a secret lab. Now it's a race against time to get Nemon to escape, and safely back to his extraction point.
Produced By
Franklin Correa
Directed By
Franklin Correa
Cast
Franklin Correa, Bryan C. King, Valentin Montero, Anthony Castro, Tara London
About the Crew
Franklin Correa is an actor, director, and producer specializing in martial arts and has done many films such as Thug (2017), Lyco (2018), and Blueprint (2019).
Bryan C. King is known for his work on The Fearless One (2017), The Last Operative (2019), and Manhunt (2020).
Tara London is an actress and producer, known for Fear of my Flesh (2015), Young Justice: Future Shock, Kidnapped (2017) and Extraction Point (2021).
Gallery
Gallery Images are Coming Soon.