Rent or Buy Now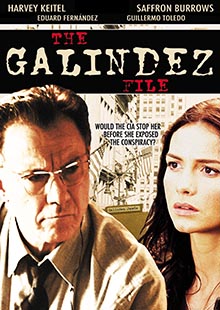 Galindez File, The
Own It August 21, 2007
Genre: Mystery/Political Thriller
Runtime: 77 Minutes
UPC: MAV-5225, 8-24355-52252-5
Storyline
In the late 1980's, a young headstrong historian, Muriel Colber (SAFFRON BURROWS) researching Jesus de Galindez, a Basque nationalist who disappeared mysteriously while in exile in the United States, travels to Spain and the Dominican Republic. Her investigation quickly moves from the world of academia into crime and political intrigue. Meanwhile, a poet-loving CIA agent, (HARVEY KEITEL), is determined to stop her by any means necessary.
| Directed By | Cast |
| --- | --- |
| Gerardo Herrero | Saffron Burrows, Harvey Keitel, Eduard Fernandez, Guillermo Toledo |
About the Crew
• Starring Saffron Burrows (REIGN OVER ME, FRIDA, DEEP BLUE SEA), and Oscar-nominated actor Harvey Keitel (NATIONAL TREASURE, PULP FICTION, THE PIANO).
• Nominated for Best Cinematography -- GOYA (Spain's Oscar equivalent)
• "(Director) Gerardo Herrero makes the most of it with intricate, smart-looking political thriller "The Galindez File," his finest pic to date." -Jonathan Holland, VARIETY
• "El elenco aporto validez a sus respectivas criaturas, y tanto las labores de Saffron Burrows como de Harvey Keitel, de Eduard Fernandez y de Reynaldo Miravalles, en una estupenda composicion, elevaron algunos puntos a esta historia sostenida por la excelente fotografia de Alfredo Mayo." -Adolfo C. Martinez, La Nacion Line.Com
• This is thriller, and mystery is gripping from start to finish; the photography is excellent!
Gallery
Gallery Images are Coming Soon.