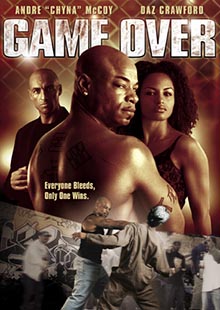 Game Over
Own It April 04, 2006
Genre: Action
Runtime: 85 Minutes
UPC: DVD: MAV-5132, DVD: 824355513226
Storyline
Notorious street fighter Victor Knox (Andre "Chyna" McCoy - The Matrix) has just been freed from prison. Now, to earn back his wife and child, he needs money fast. When he's invited to join a mysterious fight tournament promising cash prizes, he quickly signs up. Under constant surveillance by virtual spectators, each no-holds-barred match becomes increasingly violent. Vic soon finds himself being held captive in this boundless, dangerous game of endless fighting. To free himself, he must confront the game's enigmatic creator and its chief enforcer, known only as The Ref (Daz Crawford - Blade II, UK Gladiators' "Diesel"). The only way out is to win!
Directed By
Peter Sullivan
Cast
Andre "Chyna" McCoy, Daz Crawford
About the Crew
Andre McCoy- Doomed, The Revengers, TKO
Daz Crawford - Blade II, TKO, "Gemini Division"
Joel King - First Landing, TKO, The Meeting
Kerry Wong- Nominated for a Screen Actors Guild award for his stunt work on Pirates of the Caribbean: At World's End
Gallery
Gallery Images are Coming Soon.