Rent or Buy Now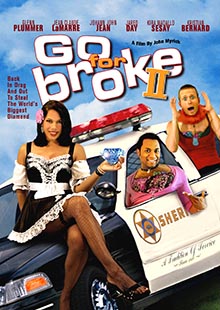 Go For Broke 2
Own It September 06, 2005
Genre: Comedy
Runtime: 84 Minutes
UPC: DVD: MAV-5142, DVD: 824355514223
Storyline
What do you do when your friend is held up for ransom? You dress in drag and steal a $20 million dollar diamond. Follow John and Darnell in this wacky adventure as they try to rescue Ramses (Glenn Plummer) from a vengeful correctional officer holding him for ransom. With help from their friend Mouse (Jean Claude LaMarre), they come up with a plan to steal a $20 million diamond from a rich African Prince. Before they know it, John and Darnell are dressed up as women and on a double date with a horny Texas oil tycoon, and the eccentric Prince. But their plans might be sabotaged when two ex-convicts go after the same diamond. It all comes crashing down in one crazy Saturday night.
Directed By
John Michael Myrick
Cast
Glenn Pummer, Jean Claude LaMarre, Johann John Jean, Larry "Flash" Jenkins, Garry G., Jared Day, Erika Ringor, Kristian Bernard, Kira Madallo Sesay, Barry J. Radliffe, Brendan Connor, Anil Raman, Timothy Devlin, Diane Sellers, Marjan Faritous
About the Crew
Sequel to the highly successful Go For Broke, released by Artisan Home Entertainment, (over 1 million in video sales).
Produced by urban hot maker Jean Claude LaMarre, (Go For Broke, Gang of Roses)
Gallery
Gallery Images are Coming Soon.