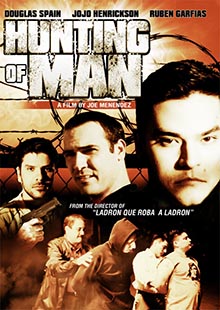 Hunting of Man
Own It September 04, 2007
Genre: Action
Runtime: 88 Minutes
UPC: MAV-5240, 8-24355-52402-4
Storyline
Pete has mixed feelings about his younger brother, Simon, wanting to be a cop, and follow in the footsteps of his uncle Bert, a highly respected police sergeant. While, Simon and Uncle Bert are seemingly cut from the same macho mold, Pete is just the opposite, preferring his intellectual interests. Over the years, friction between Pete and his uncle has strained their relationship. Now, years later, Simon manages a movie theater, struggles through college, and still set on joining the police academy. Enter Omar, a former childhood friend of Simon's, but now the neighborhood's loan-shark who has another mutual friend roughed up. The quick-tempered Simon retaliates against Omar and sets off an escalating battle between them. Only an unexpected alliance between his brother Pete and Uncle Bert can stop Simon's vicious cycle of vengeance.
| Directed By | Cast |
| --- | --- |
| Joe Menendez | Douglas Spain, JoJo Henrickson, Ruben Garfias |
About the Crew
• Writer and director Joe Menendez won an ALMA award for Outstanding Director of a Comedy Series for "The Brothers Garcia"
• Menendez is also the director of "Ladron Que Roba A Ladron" due to release theatrically this summer
• "Writer-director Joe Menendez's invigorating Hunting of Man is a powerful suspense yarn as well as an affecting look at personal honor and brotherly devotion." -CINEQUEST
• "Joe is a natural filmmaker-- and the cast did a first rate job, Douglas Spain especially".--Mary Glucksman, FILMMAKER MAGAZINE
• ". . . pic mixes sentiment and action. . . in this tale of childhood friendship soured by crime, violence and revenge". –VARIETY
• Winner-Best Picture-NEW YORK LATINO INTERNATIONAL Film Festival
• Winner-Festival Director Award For Excellence -METHOD FEST Film Festival
• Winner-Audience Award-TEMECULA VALLEY INTERNATIONAL Film Festival
• Official Film Festival Selections --MIAMI LATIN -LOS ANGELES LATINO INTERNATIONAL-CHICAGO LATINO INTERNATIONAL-CINEQUEST-PALM SPRINGS LATINO INTERNATIONAL-CINESOL-FESTIVAL CINE LATINO
Gallery
Gallery Images are Coming Soon.