Rent or Buy Now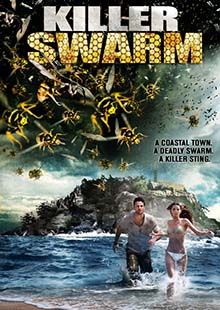 Killer Swarm
Own It June 01, 2010
Genre: Thriller
Runtime: 90 Minutes
UPC: MAV-5329, 8-24355-53292-0
Storyline
Deadly black bees threaten to wipe out an entire city. With venom three times as deadly as an Africanized bee one sting is a guaranteed death sentence. Scientists are working quickly to create an antidote, but time is running out and an attack by a massive swarm of the deadly bees is imminent.
| Directed By | Cast |
| --- | --- |
| Michael Karen | Janin Reinhardt, Stephan Luca, Paula Schramm, Sonja Kirchberger, Klaus J. Behrendt |
About the Crew
Klaus J. Behrendt- Won an Adolf Grimme Award and a Bavarian TV Award for his role in Mein Vater. Starred in "Tatort" and "A.S."
Janin Reinhardt - "Lotta in Love"
Sonja Kirchberger - Die Venusfalle (The Venus Trap)
Gallery
Gallery Images are Coming Soon.