Rent or Buy Now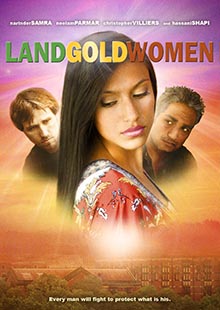 Land Gold Women
Own It July 01, 2014
Genre: Drama
Runtime: 90 Minutes
UPC: MAV-5467, 824355546729
Storyline
Nazir Ali Khan is an immigrant Indian professor living with wife and two children Saira, 17 and Asif 14 in Birmingham, England. Nazir shares a great relationship with his children and indulges their love for all things English, but has taken great pains to keep the link to home strong. When his beloved Saira is found in an illicit relationship, Nazir is suddenly on the brink of a tough decision. Should he save face or save his daughter?
Directed By
Avantika Hari
Cast
Narinder Samra, Neelam Parmar, Hassani Shapi, Christopher Villiers.
About the Crew
Land Gold Women won "Best Film in English" at the Indian National Awards - the highest honor for a film in India.
It is the world's first film in English to explore the issue of honor killing.
It has also received numerous awards from film festivals across the world.
Avantika is a multi award winning writer, director and co-producer of her maiden film, Land Gold Women.
The film also received a nomination for Best UK first Feature for Avantika Hari.
Gallery