Rent or Buy Now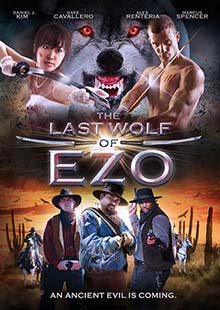 Last Wolf of Ezo
Own It October 20, 2015
Genre: Action, Western
Runtime: 74 Minutes
UPC: MAV-5494, 824355549423
Storyline
Karukan, a ronin samurai, travels to the old west after his clan fails to stop a beast that has escaped Japan. He hires a guide, Langdon, to accompany him on his journey to stop the beast from killing any more innocent people. Together, along with a band of bounty hunters, they hunt down the beast to the woods of River City. In order to gain the confidence and strength to defeat the beast, Karukan must overcome his past burdens such as family dishonor and lost love.
Directed By
Eduardo Castrillo
Cast
Daniel J. Kim, Alex Renteria
About the Crew
A professional Muay Thai kickboxer, Daniel J. Kim has also appeared in indie films and shorts such as City At War, The Dinner Date, music videos, and TV.
Alex Renteria - Known for City at War, and works for KRON radio, the official station of the SF 49ers and Giants, while securing lead roles in independent films.
Marcus 'Big Spence' Spencer - Appeared in the 'The Pursuit of Happyness'.
Gallery