Rent or Buy Now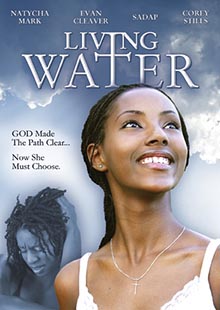 Living Water
Own It August 15, 2006
Genre: Drama
Runtime: 82 Minutes
UPC: DVD: MAV-5186, DVD: 8-24355-51862-7
Storyline
"Just finished viewing, "Living Water" -- it was a Blessing for my afternoon. Thank you for enabling the circulation of movies that show relevant living situations and how through God's guidance and surrounding ourselves with people led by God, we can move through certain "boxes" of life that we lock ourselves in."
--CM
Twenty year-old Gwen's recent conversion to Christianity causes a conflict between her and her "party girl" best friend. There's tension at home as well. Gwen's mom is fighting a serious addiction to pain killers, and her dad, a tough corporate lawyer, has just taken the civil suit case against the owner's of her new church. Gwen's nurturing kindness helps heal all those around who "thirst" for unconditional love and acceptance.
Directed By
John McDougal
Cast
Natycha Mark, Evan Cleaver, Sadap, Corey Stills
About the Crew
• A Realistic Test of Spirituality
Gallery
Gallery Images are Coming Soon.