Rent or Buy Now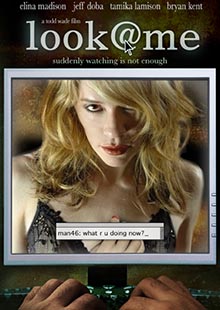 Look @ Me
Own It September 12, 2006
Genre: Erotic
Runtime: 92 Minutes
UPC: MAV-5187, 8-24355-51872-6
Storyline
A sexy aspiring model, Tina (Elina Madison -Black Tie Nights, The Erotic Misadventures of The Invisible Man), has a personal website featuring herself in various risqué images. Countless fans enjoy her delicious log-on entertainment. -But for one website fan,"Man46", it becomes a disturbing obsession!Psychologically-scarred security systems specialist Robert (Jeff Doba) is frustrated with his inability to maintain a normal sexual relationship. As Tina's number one web club fan, he sends her an offensive e-mail, by which she responds by cutting off his access. Robert AKA"Man46"retaliates by abducting Tina from her home. Now Tina is his beautiful prisoner trapped in his high-tech torture chamber, complete with elaborate security devices, in the basement of his isolated house! Determined to use her to overcome his physical and emotional shortcomings, he forces her to continue posing for website photographs to disguise her permanent abduction. Tina endures dangerous mind games and malicious torture, all the while using her wiles to secretly call out for help through her website.
Cast
Elina Madison, Jeff Doba, Tamika Lamison, Bryan Kent
About the Crew
• Great Erotic Thriller with Fantasy theme!
Gallery
Gallery Images are Coming Soon.