Rent or Buy Now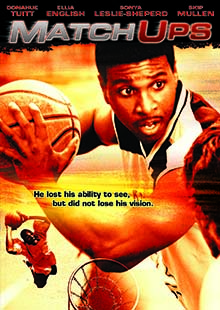 Matchups
Own It March 09, 2004
Genre: Drama
Runtime: 98 Minutes
UPC: DVD: MAV-5058, DVD: 824355505825
Storyline
Although Ian "Wonder Boy" Williams (Donahue Tuitt) was born legally blind in one eye, he went on to become college basketball's "Player of the Year." Wonder Boy's dreams of a national championship and pro career are shattered when an accident causes him to lose sight in his one good eye and leaves him totally blind. Faced with shattered dreams, Wonder Boy tries to find purpose in his life. New opportunities arise when the entire coaching staff at Wonder Boy's Alma Matter is fired and he is asked to fill in as coach. All eyes are on Wonder Boy who becomes the first blind coach in college history.

Wonder Boy has the tireless support from his mother Lynn Williams (Ellia English- "The Jaime Foxx Show"), wife Gabrielle Williams (Sonya Shepherd- "The Lion King," "Keenan and Kel") and father Ian Williams, Sr. (Skip Mullen- "Passions") that helps him embrace another chance to be a part of the sport he loves. Can a legally blind coach have the vision to lift a sub par team and struggling athletic program to national prominence?

MATCHUPS is a moving and touching story that shows Wonder Boy that there is life after unexpected tragedies. Every person has a dream, a childhood dream. What happens when dreams die? New dreams are born.
Directed By
A Film by Donahue Tuitt
Cast
Starring Donahue Tuitt, Ellia English, Sonya Shepherd and Skip Mullen
About the Crew
MATCHUPS is a poignant family film that tells the tale of one man\'s struggle with his blindness and how he faces his life and makes his dreams come true depsite his handicap.
Gallery
Gallery Images are Coming Soon.