Rent or Buy Now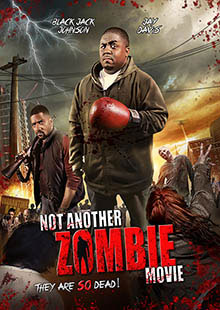 Not Another Zombie Movie
Own It September 13, 2016
Genre: Horror, Comedy
Runtime: 78 Minutes
UPC: MAV-5504, 824355550429
Storyline
Franklin and Mike find themselves trapped in the undead-infested Cyrene City, where they must attempt to lead a group of unconventional survivors to safety. As they join forces with the likes of a pregnant woman, a moronic arms dealer, and a mentally challenged man, they will have to determine which is worse: relying on each other or succumbing to the zombie mayhem. While this uprising of zombies has overwhelmed the city, Mr. Roberts, the CEO of R2 Pharmaceuticals, has sent in a team of mercenaries known as the S.I.E.G.E into Cyrene City to recover the only known antidote for his own financial gain.
Produced By
Jay Davis & Donte Williams
Directed By
Donte Williams
Cast
BLACK JACK JOHNSON, JAY DAVIS, WILL CUMMINGS III, BRIAN SMITH, HAROLD DENNIS
About the Crew
Black Jack Johnson has appeared in films such as Love Jones, Soul Food, My Best Friend's Wedding, A Family Thing, Michael, and the Chamber.
Actor Will Cummings III won the 2012 Best Actor award at the Laugh or Die Film Festival in Chicago. He's appeared in more than 20 feature films including, Ed the Awakening, Vengeance Kill, Fast Zombies with Guns, Clubless and more.
Actor / Writer Jay Davis known for Choke on That (2012), MisAdventures of J Davis: The Hostile Takeover (2011) Shots Fired (2012).
Director/Cinematographer Donte 'Diesel' Williams has over 15 years of video and film production experience and has worked as a PROFESSIONAL TV News Photojournalist and Editor for over 11 years. Diesel has worked on TV shows and live events at various TV stations.
Gallery