Rent or Buy Now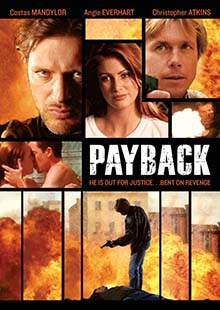 Payback
Own It October 14, 2008
Genre: Action
Runtime: 93 Minutes
UPC: MAV-5265, 8-24355-52652-3
Storyline
Sean's partner is brutally murdered during a drug bust gone wrong. Traumatized by his friend's death and disgusted by internal politics, Sean quits the force and moves with his wife and daughter to an isolated ranch. But things aren't peaceful for long. The psychotic killer behind his partner's murder escapes from prison with one thing on his mind…revenge! Leaving a trail of dead bodies behind him the killer quickly closes in on Sean and his family.
Directed By
Winston W. Champ
Cast
Angie Everhart, Costas Mandylor, Christopher Atkins, Laura Lane, Tanner Gill
About the Crew
Starring former model Angie Everhart. She has graced the covers of Elle and Glamour and appeared in several issues of Sports Illustrated swimsuit edition. Everhart has also appeared in numerous TV shows and movies including Last Action Hero with Arnold Schwarzenegger, "The Real Gilligan's Island," and "Celebrity Mole: Yucatan."
Christopher Atkins- Golden Globe nominee for The Blue Lagoon. Starred in 100 Million BC, The Employee of the Month, Tequila Express, and was Peter Richards on the TV series "Dallas."
Tanner Gill- Nominated for a Taurus Award at the World Stunt Awards. Is a well known stuntman and has done stunts on "Prison Break," Rush Hour 3, The Guardian and The Departed
Laura Lane- Swordfish
Costas Mandylor- Beowulf, Hoffman in Saw III, Saw IV and Saw V, WB Series "7th Heaven." Listed in People 2000 Awesome Aussies Beautiful People and was chosen by People magazine as one of the 50 Most Beautiful People in the world.
Gallery
Gallery Images are Coming Soon.