Rent or Buy Now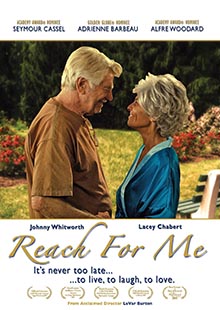 Reach For Me
Own It September 13, 2011
Genre: Drama
Runtime: 90 Minutes
UPC: RFM-0001, 7-280280-9866-2
Storyline
Dying is hell, at least for Alvin, a terminally ill widower confined to his hospice bed with nothing to chew on but bitter memories. The overly ill-tempered man correspondingly makes life hell for everyone else around him. The world observed from his hospice bed provides the final proving ground where he learns to make the most of the time he has, and discover the love he never knew was so close at hand.
| Directed By | Cast |
| --- | --- |
| LeVar Burton | Seymour Cassel, Alfre Woodard, Adrienne Barbeau, Johnny Whitworth, Lacey Chabert, Charlene Blaine, Larry Hankin, LeVar Burton |
About the Crew
Seymour Cassel - Academy Award Nominee, "Indecent Proposal", "Rushmore", "The Royal Tenenbaums"
Alfre Woodard - Academy Award Nominee, "The Family That Preys", "Star Treck: First Contact", "Desperate Housewives"
Adrienne Barbeau - Golden Globe Nominee, "The Fog", "Escape From New York"
Johnny Whitworth - "Limitless", "3:10 to Yuma", "CSI: Miami"
Lacey Chabert - "Ghost of Girlfriends Past", "Party of Five", "The Spectacular Spider-Man"
Director LaVar Burton - "Star Trek: The Next Generation", "Roots"
2010 Theatrical Release
Best Feature & Best of the Festival - Lake Arrowhead Film Festival 2009
Audience Choice Award Best Feature - San Diego International Film Festival 2009
Centerpiece Gala Selection - Downtown Film Festival, Los Angeles 2009
Official Selection - Mill Valley Film Festival 2009
Gallery
Gallery Images are Coming Soon.