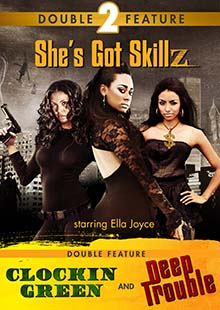 She's Got Skillz - 2 Pack
Own It December 31, 2013
Genre: Action
Runtime: 181 Minutes
UPC: MAV-5462, 824355546224
Storyline
Deep Trouble-In this urban-themed action-drama, a drug-dealing crime kingpin tries to take control of a firm. The artists aren't interested in being part of the dealer's money-laundering scheme, and they hatch their own plan to bring him to justice. CLOCKIN GREEN - Two friends, Sonya & Mickey who grew up in NYC, become mortal enemies when they cross over to the wrong side of the law in this crime drama. While they're bright and good looking, fate hasn't been giving them an excess of opportunities and so Mickey comes up with an unusual get-rich-quick scheme. However, the numbers have an ugly effect on Sonya, who turns her friend in to the authorities, but not before pocketing the take. Just when Sonya thinks she's gotten away with the perfect crime, Mickey reappears on the scene and she's not at all happy.
Cast
Clockin Green Ella Joyce Joyce Sylvester "Deep Trouble" Starring Alyah Horsford. Janel C. Scarborough. Count Stovall
About the Crew
Clockin Green - Ella Joyce, cast in Tyler Perrys' Temptation (2013), California Solo & Hopelessly in June.Deep Trouble - Charles Weldon, cast in many Law&Order episodes. Most notable in Malcolm "X".
Gallery
Gallery Images are Coming Soon.